We recognize that all of our patients are unique and deserve to receive orthodontic care that reflects their individual needs. Our experienced and talented team is committed to working with you and your family to create a comfortable, stress-free, and rewarding orthodontic experience every time you visit our practice.
We are pleased to welcome you and your family, and we look forward to working with you.
---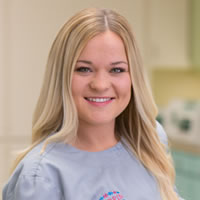 Madi
New Patient Coordinator
After completing PeachTree dental school in 2016, and her expanded duties certification at University of Louisiana, Madi joined the team in 2018. She enjoys being able to greet every new patient and explain the orthodontic process to everyone. She loves to watch each patient from the beginning of their journey to the very end. Madi loves to watch a child's confidence grow as they see their new smile taking shape.
Madi has lived in Ruston for her entire life. She lives with her daughter, Harper, and their puppy, Patsy. Aside from playing with their pup, Madi and Harper read books and sing songs together.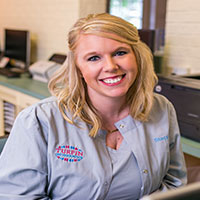 Stacy
Financial Coordinator
Stacy has worked in the dental field since 2012 and joined Turpin Orthodontics in 2013. She works hard to make treatment affordable for everyone, finding payment terms that fit with each family's budget. She also strives to ensure patients are able to fully maximize their insurance benefits. Stacy loves to help people with financials, so they're able to achieve a great smile!
When she's not helping our patients and families, Stacy is usually with her husband and two children, Lyla Grace and Drew. They enjoy cooking together, going to the park, and playing board games.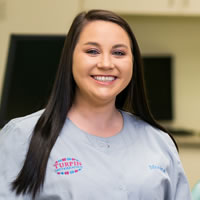 Monica
New Patient Coordinator/ 3D Coordinator
Monica has worked in orthodontics since 2011; in 2013 she became an Expanded Duty Dental Assistant and received her X-ray Certification. She joined us in 2014 and is trained in printing 3D models. After a patient's braces are removed, their teeth are scanned and then Monica uses that model to craft the retainer that keeps the finished smile in place and looking great!
Outside the office, Monica spends much of her time with her husband Ethan and their two children, Katelyn and Carson. She likes watching LSU football, grilling, and spending time with loved ones.
Darcie
Expanded Duty Dental Assistant
Jayda
Marketing Coordinator